What are the best Montreal Breweries to visit this year? Well, we've put in the work to figure that out for you! We have sampled their house brews, spent time in their taprooms and read all the online reviews to come up with our take on the best Montreal Breweries to explore this year! 
Montreal Breweries
Montreal is known for having many "greats" – great food, great art, great culture, and, of course, great craft beer. With over 30 years of experience, Montreal offers more than 40 local craft breweries for you to find your next favourite brew. As if we needed another reason to fall in love with Montreal…
What are the top breweries in Montreal?
The beauty of the Montreal Craft Beer scene is that many craft breweries are located in close proximity to each other. So there's never been a better excuse to go for a walk, get some exercise, and perhaps make a few pit stops along the way, creating your very own brewery tour! Need some inspiration? Below we've chosen our top Montreal craft breweries for you to start at, where your night goes after that, well that's up to you!
How do we pick the best Montreal Breweries?
With every 'Best Breweries' post that we write, we make sure to do diligent online research to determine who makes it on our list. From reading online reviews and reviewing beer selections, to checking other authority websites and of course, sampling their beers. We do our best to take all the information we collect and give you our opinion of the top craft breweries in Montreal.
However, we know we aren't perfect and if we've missed a Montreal brewery that you think should be on this list, contact us and let us know who the brewery is and we'll do our best to include them!
Did we miss something?
If you think a brewery deserves a spot on our list, Vote for them! If you're a brewery looking to update your information or get in touch, contact us!
The Best Montreal Breweries
Alright, so who made our list this year? Check it out below!
Brasserie Dieu du Ciel
Bow down to one of Montreal's OG's when it comes to craft beer. Perhaps one of the most well known and celebrated breweries, Dieu du Ciel has earned its place in history with their unique brew recipes, great atmosphere, and local love. You can grab their beers in-store, but if you have a chance to enjoy a beer fresh from the source in the heart of Mile End, you won't want to miss that opportunity.
Customer Review: This place is everything a brewpub should be. Great ambiance, helpful staff, wonderful beers. If you're from out of town and only have time to visit one brewpub, this is where you should go. Flawless and worthy of all the hype.
Brasseurs RJ – Quartiers Belle Gueule
It all started with their Belle Gueule beer lineup in 1988, since then they've moved into a brand new state of the art brewhouse and opened up a nano-brewery: Quartiers Belle Gueule Pub & Terrace in the heart of Plateau Mont-Royal, Montreal.
The RJ brewmasters have been researching the best brewing process and recipes for generations and don't hesitate to shake things up, often experimenting with innovative and bold flavours. Try them for yourself on their large sunny patio or inside next to the fermentation tanks where all the magic happens.
Customer Review: Super nice terrace for a drink with friends! Nice location set back from the road. Impeccable service, I will return often!
Microbrasserie 4 Origines
Inspired by the uniqueness of Montreal and dedicated to brewing beer that this city can be proud of. 4 Origines is an industrial style brewery with a dog friendly patio and tasting room overlooking the beautiful city skyline. In their taproom you'll find delicious beers, board games to play with old and new friends, and a lot of friendly faces.
Although they don't serve food, you can order delivery from nearby restaurants and have it delivered right to your seat in the tasting room!
Customer Review: Local business with young spirit for microbrasserie. Many kinds of beer to try. Nice location with a view of Griffintown development 👌
L'Espace Public
L'Espace Public is a simple but warm space where the whole city can feel at home. Just a stone's throw away from Succarsale, this lively tasting room often features live music and art gallery exhibitions in their homey space.
Enjoy their delicious beers on their sunny patio filled with cute picnic tables, or take it inside and sit next to their brewery system where all the magic happens.
Customer Review: Wide choice of house beers and associated microbreweries (+ cider). Very pleasant service and a friendly atmosphere. Unmissable place in the life of the Hochelaga district.
Le Cheval Blanc
Montreal's grandfather of craft beer. Le Cheval Blanc was the very fist brewpub in Montreal, opening in 1987 after generations of taverns had filled the space before them.
This craft brewery has become a cornerstone of Montreal's craft beer scene offering a well-curated lineup of beers in a 1950's inspired atmosphere. Beer brewed for on-site consumption only so you'll have to check out this blast from the past in person to try their great beers.
Customer Review: This is a no nonsense bar that is great for beer. They have a great selection that is brewed on site and very competitive prices. It has an old school feel and feels like the neighbourhood spot where you grab a drink after work. It would be the bar in a sitcom!
Brutopia
Come for the beer, stay for the fun. That's what Brutopia is all about. Boasting 3 floors featuring 3 different bars and 3 terraces with a seemingly endless list of beers on tap, it's already an impressive offering. Pair it with the longest-running open mic night in Montreal and you have a recipe for a great time.
Customer Review: Brutopia is one of the coolest and best breweries in Montreal Downtown for reasons more than one… They brew some amazing collection of beers (especially English blonde, pumpkin spice and pineapple brew) that one must enjoy whenever in downtown Montreal.
Brasserie Harricana
Brasserie Harricana is a warm neighbourhood microbrewery, with a good mix of beer types on the border of Little Italy and Mile Ex. They have good food and really good brews, releasing a new beer every week!
The decor is inspired by the 70's and most of the tables, chairs, and light fixtures are actually from the original brewery from that era. Voted one of Montreal's Most Beautiful Bars, you absolutely must check out this charming space.
Customer Review: Very pleasant, peaceful place to taste excellent beers with the wise advice of the waiters. Special mention for the house fries which are undoubtedly the best ever tasted to date.
BreWskey
A lovely meeting place for beer lovers to connect over good beer. BreWskey brews some great craft brews in a beautiful space with an open kitchen overlooking their hard working brewery and a patio with a beautiful view of the Old Port. With 30 beers on tap, we recommend ordering a flight (or two) to find your favourites.
Customer Review: This is one of my favourite places to go in Montreal. The beer is out of this world, the environment is pure bliss especially when they have a live band. High ceiling, clean and pleasant decor, you can't go wrong.
EtOH Brasserie
This new microbrewery in the heart of Villeray offers a wide range of craft beers brewed on site and controlled at 3 different temperatures depending on the style. They have an impressive, top notch food menu to pair with their brews including a few vegetarian options.
For those who are looking for more than just good beers, EtOH Brasserie also has great menu of wine, cider, and local liquor from Quebec and across Canada.
Customer Review: Very nice ambiance, good selection of EtOH beers and other micro breweries, whiskeys and gins. The food was great and the service courteous.
Réservoir Brasseur
Looking for the perfect place to enjoy brunch and a beer? Look no further than Réservoir Brasseur. The cosy and casual atmosphere pairs perfectly with their lineup of beers brewed in house.
Customer Review: One of the best microbreweries in the city, with a great rooftop terrace in the summer.
Les Soeurs Grises
Former nunnery, now brewpub, Bistro Brasseries Soeurs Grises has been brewing some of the best beer in the heart of Old Montreal for over 10 years.
With a Mexican smokehouse inspired cuisine, from burgers to salmon tartare, they've got an impressive food menu that they pair phenomenally with their beer list.
Customer Review: Wow! What impeccable service. We were stopping not knowing it would be a real gem … With an attentive and friendly waiter. Very diverse and affordable beers! Best service from a bistro-brasserie I have had in a long time!
Le Saint Bock
If you love beer, you'll fit right in at Le Saint Bock. With 44 beers on tap, you won't have any trouble finding a brew for your palate.
While they have an impressive list of their own beers on tap, they also feature other Quebec microbreweries on their list. From barrel aged beers to milk stouts, they've got it all.
Customer Review: One of the best pubs in Montreal. Has an endless variety of home brews, each one better than the other. We had a flight of beer- tried the raspberry and blueberry sour ale, the lime weiss bier, the azote, the saison and raisin sour ale. All of them were spot on in terms of flavour, and tasted so natural! The snacks were wonderful as well.
Pit Caribou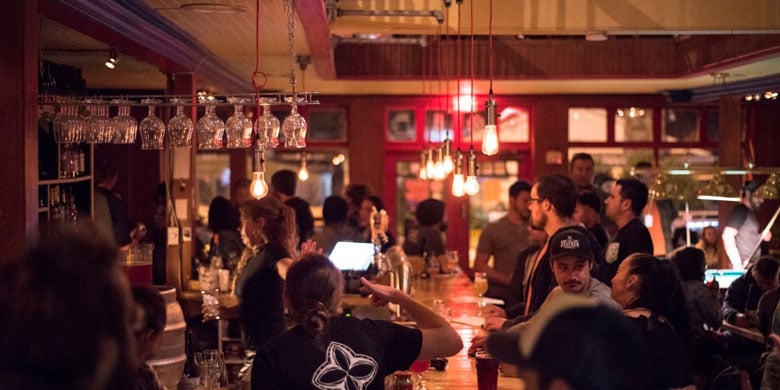 Pub Pit Caribou is known for it's Gaspé flair. What does that mean you ask? Their beer is brewed in L'Anse-à-Beaufils which is a fishing village on the Gaspé Peninsula. It's known for its authentic and refreshing vibes, which is what Pit Caribou and their beers bring to the table.
Customer Review: Nice atmosphere, good beer and the staff is super friendly! A place where it is good to drink!
Mabrasserie
Ever heard of a Beer Collective? Sounds cool, right? Well, it is! At MaBrasserie, you can sample not only their own beers but also those of the other members of the Collective: Isle de Garde, La Succursale, Broue Pub Brouhaha, and Noire et Blanche. So it's basically come for one and experience all 5! Pretty good deal, hey? With over 32 taps to try, better make sure you don't have anywhere else to go after visiting here.
Customer Review: We love this place, the beer menu is big but not overwhelming and they have options for everyone, from the beer-saavy to the newbies. Also the food, the music and the attention is sweet!
Isle de Garde
This brewery is inspired by the purity and simplicity of traditional European beers, think German and Czech brews. They feature their own unique brews on tap as well as a variety of other local beers. Located in the heart of La Petite Patrie, its massive sun-soaked patio is one of the best places to grab a pint and people watch.
Customer Review: Cozy atmosphere with very accommodating and knowledgeable staff. The dishes are great and change according to availability. Definitely a local favourite, as shown by the long lineups during weekends.
La Succursale
You won't find any beer recipe experiments at this brewpub. Serving up classic well-made beer is La Succursale's forte. Looking for something a bit different? Try one of their beer cocktails as you enjoy the bright and airy atmosphere at La Succursale.
Customer Review: Very pleasant atmosphere, good service and wonderful beers.
Broue Pub Brouhaha
This self-proclaimed "beer temple" is a member of the Montreal Beer Collective alongside Isle de Garde, La Succursale, MaBrasserie, and Noire et Blanche. If you're looking for a no-frills bar to enjoy the perfect Montreal pint, look no further than Broue Pub Brouhaha.
Customer Review: Always great service as usual, super courteous and smiling employee, fire food! Great place for microbrewery beer lovers.
Avant-Garde – Artisans Brasseurs
Avant-Garde isn't just a brewery – it's a vibrant canvas painted with the creative flair of an enthusiastic bunch of youngsters who are passionate about local craft beers and late-night pizza cravings. You can expect exceptional craft beer and delicious food and this local gem. Dive into the depths of their offerings and let your taste buds embark on an adventure like never before!
Customer Review: An excellent quite large location for delicious pizza and beers. I've been there twice and always had a blast drinking well brewed beers and well cooked pizzas.
Enjoy the best breweries in Montreal!
Make sure to go and check out Montreal's best craft breweries, grab a locally brewed pint (or 2) and support your local breweries!
If we've missed a brewery on our list that you think should be added, contact us and let us know who the brewery is and why you think it should be added to our list of the best Montreal Craft Breweries!
More Quebec Breweries to Explore! 
But wait! There are more great breweries to discover in Quebec! If you happen to find yourself on a road trip around Quebec, make sure to check out the best breweries in Quebec City!