What are the best Philadelphia Breweries you absolutely must check out? Well, we've done the work to figure that out for you! We have sampled their brews, spent time in their taprooms, and read all the online reviews to develop our take on the top Philadelphia Breweries to explore this year!
Philadelphia Breweries
Philadelphia has long been known as one of the biggest beer cities in America. But in recent years, the craft beer scene has exploded, with new breweries popping up all over the city.
Today, there are nearly one hundred craft breweries in Philadelphia, each offering its own unique take on beer. From traditional styles to experimental brews, there's something for everyone to enjoy. And with so many beer lovers living in the city, it's no surprise that Philadelphia is home to some of the best beer festivals in the country.
What are the top breweries in Philadelphia?
Philadelphia is home to a growing number of breweries, from small-batch hole-in-the-walls to beer giants like the Goose Island flagship brewery. They're home to several well-known brewpub chains like Iron Hill Brewery and Victory Brewing and other up-and-coming breweries like Two Locals Brewing Company. And don't forget about the crowd-favorite beer halls like Monk's Cafe!
We've explored the huge number of Philadelphia breweries and have come up with a list of some of the best craft breweries in the city. Each of the breweries on our list has a unique character and brews its beers with true passion.
Below, we've listed our choice of the best breweries in Philadelphia, PA, that you simply cannot miss.
How we picked the best Philadelphia Breweries?
With every 'top breweries' post we write, we do diligent online research to determine who makes it on our list. From reading online reviews and reviewing beer selections, to checking other authority websites and sampling their beers. We do our best to take all the information we collect and give you our opinion of the top breweries in Philadelphia.
However, we know we aren't perfect and if we've missed a Philadelphia brewery that you think should be on this list, contact us and let us know who the brewery is and we'll do our best to include them!
Did we miss something?
If you think a brewery deserves a spot on our list, Vote for them! If you're a brewery looking to update your information or get in touch, contact us!
The Best Philadelphia Breweries
Alright, let's get to it, shall we? Here's our list of the top Philadelphia Craft Breweries!
Yards Brewing Company
Yards Brewing Company is a Philadelphia institution, known for its signature ales and small-batch brews. Founded in 1994, Yards has been an integral part of the city's craft beer scene, and its huge taproom is a popular destination for locals and tourists alike.
In addition to its signature beers, Yards is always experimenting with new recipes, making it a great place to try something new. Whether you're a beer lover or just looking for a fun place to hang out, Yards Brewing Company is definitely worth a visit.
Customer Review: Great beer. Great people. Awesome atmosphere. We loved it! Been on our list for awhile and we were so happy to check it off our brewery list! Thanks for making a great experience
Evil Genius Beer Company
Evil Genius Beer Company is a microbrewery located in the Fishtown neighborhood of Philadelphia. Founded in 2011, the company has become known for its industrial-chic atmosphere, creative beer names, and inventive beers.
"The Lab" is a popular hangout spot for locals, and many of their flagship beers like "Stacy's Mom" and "I Love Lamp," have become staples at Philadelphia area bars and restaurants. In addition to traditional styles such as pilsners and IPAs, Evil Genius also brews unique beers like chocolate stouts and fruity sours.
Customer Review: Good beer selection I feel they are always trying new things with their beers while maintaining some that everyone loves. Their creativity with naming the beers is the best!!!
Dock Street Brewing Company
Dock Street Brewing Company is a craft brewery in South Philadelphia, Pennsylvania, with a rich history. It was founded in 1985 and is credited as being the first craft brewery in the city. Plus, founder Rosemary Certo was one of the first female brewery owners when Dock Street Brewery first opened!
Dock Street South produces a variety of award-winning craft beers, as well as wood-fired pizza. The brewery offers tours and tastings and is a popular destination for both locals and tourists alike. Whether you're a beer lover or just looking for a unique dining experience, Dock Street Brewing Company is definitely worth a visit.
Customer Review: Great brewery. Super comfortable space, with really nice people working. Now open for lunch with tasty vegan options.
Tired Hands
Tired Hands Brewery in Fishtown, Philadelphia, is known for its super-hopped beers and milkshake IPAs. Strange and beautiful beers are what they do best and have earned them a cult following among beer lovers.
They have a handful of locations, all of which are comfortable and welcoming spaces to enjoy delicious craft beer. Whether you're a fan of super-hoppy beers or milkshake IPAs, Tired Hands Brewery is definitely worth checking out.
Customer Review: The beers went down smooth, nice bar and the food was great.
Philadelphia Brewing Company
Philadelphia Brewing Company is one of the city's most beloved, and oldest breweries. Located in an old brick building that was originally built in 1885, it is the oldest brewing facility in Philadelphia.
Philadelphia Brewing Company is best known for its outdoor beer garden, which is a popular spot for enjoying a cold beer on a hot day. They're committed to using high-quality ingredients and they offer a variety of seasonal and year-round beers to suit all tastes.
Customer Review: Great outdoor seating. Very nice beer and cider selection. I am loving the dry hopped cider!
Urban Village Brewing Company
Urban Village Brewing Company is a great place to relax and enjoy some delicious beer and food. The outdoor lounge area is perfect for warm weather days, with fire pits for chilly evenings.
Urban Village's year-round and seasonal beers are always a hit. Their head brewer loves coming up with new creations like the Don Mega heavily oated sour IPA blended with curuba, papaya, and a touch of vanilla. Their food menu features some of the best brick-oven pizzas in the city! Plus, they host weekly events like Trivia, Music Bingo, and lots of live music.
Customer Review: Excellent service and a lively atmosphere. The pizza was great and so was the beer. If you like hazys, try the Super Villain. Go Phillies!
Love City Brewing Company
Love City Brewing Company brews approachable beers in a laid-back and easy-going setting. They're all about good people, good beer, and being a good way to cap off the day. With a dozen beers on tap, plus a few beer cocktails, craft cocktails, wine, cider, and non-alcoholic options, you'll be sure to find something up your alley at this joint.
Their taproom and beer garden means indoor and outdoor seating, with a permanent food truck, Viva Pizza serving up pizzas, burgers, and small bites. Join them weekly for various events like Bingo, Trivia, and more.
Customer Review: Hands down the best beer in Philly – the Eraserhood IPA is among some of the best hazy IPAs I have ever had. Only the cherry on top that the atmosphere and food trucks are great too.
Triple Bottom Brewing Company
Triple Bottom Brewing Company is a brewery on a mission with a triple bottom line: beer, people, and the planet. Powered by renewable energy, hiring those who are excluded from the mainstream economy, and brewing great Philadelphia beer full of creativity, flavor, and balance. You do not want to miss this environmentally and socially conscious brewery!
Their bright and airy taproom features a great variety of pale ales, IPA's, lagers, and special releases. Their food menu consists of charcuterie boards and the best grilled cheese sandwiches you'll ever try!
Customer Review: Incredible beers in a beautiful space, and the staff is super friendly too.
Wissahickon Brewing Company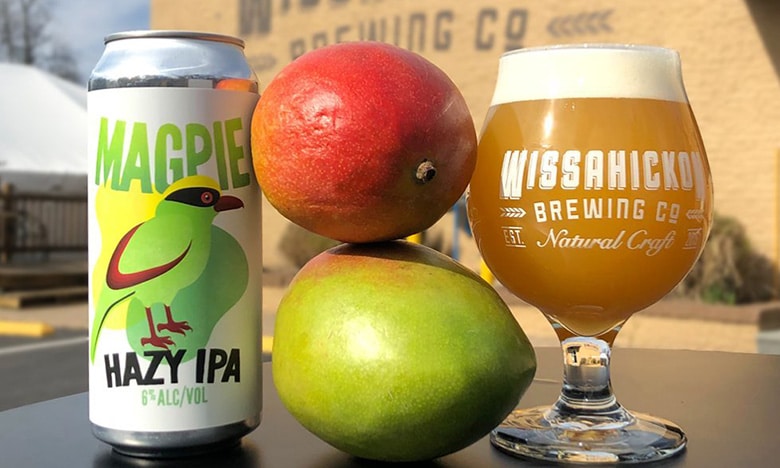 Wissahickon Brewing Company is a family-owned and operated brewery in East Falls, Philadelphia. They have a long draft list full of the best beers with unbelievable flavor combinations.
Their taproom with beautiful high ceilings hosts weekly open mic nights, quiz nights, and various special events. You'll find a rotating lineup of food trucks including Korea Taqueria, Street Sammies, and Babalouie BBQ.
Customer Review: Across the board the beers a very true to style, the staff are all kind and knowledgeable on the drinks they are serving. Definitely recommend to anyone in the area!
Attic Brewing
Attic Brewing in the historic Germantown neighborhood of Philadelphia brews their own beers that have won many awards, along with wine, cider, and craft cocktails. Their spacious taproom is a great place to wind down after a long day and their outdoor beer garden is a fantastic place to catch live music and comedy shows.
Customer Review: This is maybe the best hidden brewery gem in Philly. It's a 3 min walk from the Wayne Junction station, and offers a wide variety of beers on tap, rotating food trucks, and one of the best beer gardens I've seen in the city
Bar Hygge
Hygge is a Danish concept that Bar Hygge takes very seriously, creating a warm atmosphere where guests can enjoy the good things in life with friends and family. Their cozy, industrial-style taproom allows you to sit back and relax on one of many comfortable couches while sipping on a variety of delicious beer styles in a laid-back atmosphere.
Their flavorful and distinctive beers are not to be missed. Especially their Lemon Meringue IPA which has the zest of 100 lemons in each batch! Pair your signature beer with an aesthetically pleasing charcuterie board or top-notch burger, and you've got the recipe for an incredible evening.
Customer Review: Favorite neighborhood spot! Beer, wine, food and service is always amazing. Such a cozy spot. Even when I eventually move out of this neighborhood I will never stop coming to Hygge!
Source Urban Brewery
Source Urban Brewery in Fishtown, Philadelphia is known for their incredible beers and delicious food. Their brewing process embodies the "farm-to-glass" method, sourcing ingredients from local farmers and always using the freshest and seasonally available ingredients in all of their brews. Their tap list rotates often, so if you fall in love with one of their solid beers, we'd recommend buying a case to bring home.
Their "from scratch" kitchen is also worth mentioning, especially their smash burgers which might be the best in the city. Also open for brunch, which comes highly recommended by all who visit.
Customer Review: Awesome newer brewing company in a cool part of Philadelphia. I had two excellent beers with a triple IPA and bourbon barrel stout. My smash burger was absolutely mouthwatering. I'd definitely stop again when back in the area.
Chestnut Hill Brewing Company
Chestnut Hill Brewing Company is a small-batch brewery that excels in making the perfect beers to pair with their wood-fired Neapolitan pizza. They make some outstanding brews that are best enjoyed straight from the source on their beautiful outdoor beer garden patio. Part of the Market at the Fareway behind the Chestnut Hill Hotel, this brewery sits in the perfect location to sit back, relax, and enjoy unbelievable beers.
Customer Review: Always a pleasure to dine at CHB both in the tap room and the market. The staff is great the brews are superb and and the food is out of this world. There is something on the menu for everyone and the atmosphere is one of the best in the area.
Second District Brewing Company
Second District Brewing Company is a local favorite in Philadelphia, known for its inventive beers and excellent vegan and vegetarian food options. The brewery is located in an old saw-and-tool sharpening shop near the city center, and they have a spacious taproom with plenty of seating.
The beers on tap rotate frequently, so there's always something new to try. And if you're looking for something to eat, they have a great selection of vegan and vegetarian dishes that are sure to please.
Customer Review: Great place, love the ambiance, people, food, and most importantly, the beer! Great beer selection that changes throughout the seasons. Highly recommend a pint of Bancroft and a smash burger or the chicken tenders!
Human Robot
Human Robot Brewery has a solid lineup of both classic-style and experimental beers that keep beer nerds like us coming back over and over again. Enjoy their great lagers and European-style brews in their outdoor beer garden, accompanied by none other than Poe's Sandwich Joint. You won't regret paying Human Robot a visit. PS. Ask them about their milk tube!
Customer Review: My favorite brewery in the world. Fantastic lagers, especially German and Czech styles, and equally delicious IPAs. Poe's, located inside, makes outstanding sandwiches if you're hungry for excellent food to go with the world class beers.
Crime and Punishment Brewing Co.
Crime and Punishment Brewing Co. is a small brewhouse named after a Fyodor Dostoevsky novel. They brew unique beers and beer styles that few breweries attempt to master, like the smoked wheat Polish Grodziskie. Aside from their wild creations, they also have a number of classics like pale ales, lagers, saisons, and IPAs. Plus, they have some mean Russian-influenced dishes that are definitely worth a try.
Customer Review: Fantastic service! So quick and so nice! The beers were all good. We also had perogies and the ajika dip and both were very good. This is a great place for beers and snacks!
Brewery ARS
Brewery ARS, founded by twin brothers Sean and Andy Arsenault, is a hidden gem of a brewery in Philadelphia. Situated in a South Philly garage, this brewery is small but it is mighty! Regulars love the cartoon sketches on their beer cans, but love what's inside even more. What's more, they donate a portion of every sale of their Wayne's Pale Ale towards Parkinson's Disease. Drink beer for a good cause at Brewery ARS.
Customer Review: Fun place to have a beer. Nice selection where you can also get a diverse spread of IPA's while also enjoying Hefeweisen, English pub ale, gose, and other varieties. Welcoming place to check out in Philly!
Separatist Beer Project
Separatist Beer Project has two locations, on in downtown Easton and one in South Philadelphia. They're all about hops, Lagerbier, and spontaneous fermentation at both locations, and visiting either one would be a great way to spend an evening. Their South Philly location hosts weekly trivia that is best played with a hoppy, wild ale infused with foraged ingredients in hand.
Customer Review: Excellent beers, great location and friendly staff. Best small brewery site in Philly that I've found so far…
Fat Lady Brewing
Lady Brewing is relatively new to the Philadelphia beer industry and making quite a splash. Built on empathy and acceptance, this brewery is a place that is welcoming to all. Located along the Schuylkill River and down the street from Manayunk Brewing Company, they're in a great location for a brewery-hopping tour!
They offer an extensive selection of house-made, unpretentious beers while also featuring other local breweries on their taps. Bring your friends and grab one of the board games from the shelf for an evening you won't forget.
Customer Review: Double hazy IPA is a must try! Strawberry cider also great. Manayunk has needed a great brewery and now we have it!
Enjoy the best breweries in Philadelphia!
Make sure to go and check out Philadelphia's best craft breweries, grab a locally brewed pint (or 2) and support your local brewers!
If we've missed a brewery on our list that you think should be added, contact us and let us know who the brewery is and why you think it should be added to our list of the top breweries in Philadelphia!