What are the best Jacksonville Breweries you absolutely must check out? Well, we've done the work to figure that out for you! We have sampled their brews, spent time in their taprooms and read all the online reviews to come up with our take on the top Jacksonville Breweries to explore this year! 
Jacksonville Breweries
Jacksonville, a laid-back community and the largest city of the Sunshine State with over 850 square miles of stunning beaches, thrilling attractions and natural beauty. The coastal vibe is like none other, full of eclectic charm, warmth, and great energy.
Jacksonville isn't just beaches and sunshine though, they've got a budding craft beer scene that cannot be overlooked! The city has all types of great breweries, from your small neighborhood brewery to massive 30,000 square foot space like Intuition Ale Works, all worth visiting at least once. After all, what pairs better with surf and sun like a freshly brewed cold beer?
What are the top breweries in Jacksonville?
Whether you're at Jacksonville Beach or hanging out in historic downtown Jacksonville, you'll never be too far from a craft brewery. Jacksonville is home to some big IPA and brown ale fans so you're in luck if that's your go-to! Along with the favourites, Jax brewers also stand out with their small batch handcrafted ales and unique experimental brews.
Whether you're just visiting, or a seasoned JAX local, you're bound to have a great time soaking up the sun and discovering the hidden gems of this Sunshine State.
How we picked the best Jacksonville Breweries?
With every 'top breweries' post that we write, we make sure to do diligent online research to determine who makes it on our list. From reading online reviews and reviewing beer selections, to checking other authority websites and of course, sampling their beers. We do our best to take all the information we collect and give you our opinion of the top breweries in Jacksonville.
However, we know we aren't perfect and if we've missed a Jacksonville brewery that you think should be on this list, contact us and let us know who the brewery is and we'll do our best to include them!
Did we miss something?
If you think a brewery deserves a spot on our list, Vote for them! If you're a brewery looking to update your information or get in touch, contact us!
The Best Jacksonville Breweries
Alright, let's get to it, shall we? Here's our list of the top Jacksonville Craft Breweries!
Bold City Brewery
Bold City Brewery is Jacksonville's first locally owned brewery, opened by mother and son duo in Riverside, Jacksonville. They're named after Jacksonville's own nickname: the Bold City. Known for their great quality craft beer and delicious brunch, Bold City's Rosselle Street tap room is not one to miss.
As if we didn't love them enough, we also learned that they give back to the community through donations based on beers sold. A portion of all Mad Manatee IPA sales go to the Jacksonville Zoo's Manatee Critical Care Centre.
Customer Review: Pretty cool space, good beers, try the imperial molasses porter if you are looking for something different but very good! Nice laid back vibe and friendly bartender.
Engine 15 Brewing Co.
What better way to end your day at the beach than visiting one of Jacksonville's favorite breweries? In the heart of Jacksonville beach, Engine 15 Brewing Co. is truly making waves in the craft beer scene. Their taproom boasts a whopping 50 tap lines! Among these taps are the brewery's own delicious beer and a constantly changing selection of guest beers from local breweries near and far. With so many beers on tap, a flight board is a must.
Customer Review: Great atmosphere, staff is super helpful when it comes to selecting a beer from their menu. I personally really enjoy the beers brewed by engine 15 specifically Captain Ahop & J'ville light. Engine 15 is one of the few breweries in the area that also has a nice menu if you looking for a bite to eat while enjoying the beers they offer. Would highly recommend.
Aardwolf Brewing Company
Newer to the Jacksonville beer scene but quickly gaining popularity, Aardwolf Brewing Company in the trendy San Marco neighborhood has already won a bronze medal for their Belgian Pale Ale at the Great American Beer Festival. Beer lovers flock over their bourbon aged brews in their laid back tap room. If you're looking to enjoy the fresh air, their outdoor patio is filled with picnic tables and pretty lights, making it the perfect spot for sipping on a cold beer and checking out the food truck of the day.
Customer Review: Great experience both indoors and outdoors. Parking was easy. Dog friendly beer garden. Tons of beers on tap with a wide range of styles and regions. Opening and closing a tab is super efficient. Staff is great!
Wicked Barley Brewing Company
Wicked Barley Brewing Company is making "naughty ales for noble souls" in a fun and inviting space. Their pet friendly waterfront beer garden frequently hosts weekend parties with live music making it a go-to place for many Jacksonville locals. They've even got a boat dock if you want to arrive by water to enjoy a cold one!
Customer Review: Love the outdoor spaces. Service was really fast considering how busy they were on a Saturday afternoon. While we waited on a table we enjoyed the boat dock and beach areas. Love their variety of ciders and sours. I tried two different flights and really enjoyed the pineapple mango in particular. It's great that they're dog friendly.
Southern Swells Brewing Co.
Southern Swells Brewing Co., has been keeping things Hazy in Jax Beach since 2017. Known for their IPA's, NE Pale Ales, and tart sour beers, they're quickly becoming a favourite in town. Their Jax Beach brewery features a kid friendly tap room and a dog friendly covered patio, so you can bring the whole family after a day of soaking up the sun!
Customer Review: Awesome beer with an awesome atmosphere. On top of that, GREAT service! Beertender very knowledgeable. A must stop in your craft beer tour through Jax Beach
Lemonstreet Brewing
Lemonstreet Brewing Company has a passion for brewing easy-drinking beers with flavors inspired by their Hispanic heritage. Their brewery and taproom is located in the up and coming craft beer hub, the Railyard District, and is the one of the largest taprooms in North Florida! With enough room for an indoor Bocce court, corn hole, darts, and more, it makes for a great place to escape the Florida heat with all your friends.
Customer Review: Super friendly staff and great brews, especially the IPA. The setting is great too, whether you want to watch a game or just chill with friends. I'll be back!
Green Room Brewing
Green Room Brewing is a surf-inspired brewery just steps away from Jacksonville Beach. Their large and inviting tap room is a popular place for locals and tourists alike to grab a flight and hang out. You'll be greeted by many furry friends as well-behaved dogs are allowed inside the taproom, which is a huge bonus for the dog lovers out there! It's BYOF (bring your own food) or you can grab a bite from the occasional food truck outside.
Customer Review: One of the most family friendly places. The best staff and top quality beers at a great price i love this place.
Hyperion Brewing
Hyperion Brewing Company is Jacksonville's first nano brewery located in historic Springfield, Jacksonville. They're known for their bold and rebellious beer, a welcoming atmosphere and flight boards to try all their delicious creations. A visit would not be complete without checking out their "secret garden", a large beer garden and relaxing oasis with flowers, twinkle lights, and lawn games.
Customer Review: This place is great! Great beer selection (and excellent quality), friendly staff, and great atmosphere. The patio is perfect for watching sports and they have heaters for cold weather (and fans for the summer). Don't miss it.
Veterans United Craft Brewery
Veterans United Craft Brewery is a veteran owned and operated craft brewery located in South Jacksonville. With 22 handcrafted beers and ciders on tap, from year round flagships to seasonal releases, you're sure to find a new favourite here. Their taproom is always buzzing with events like trivia and poker nights, live music on Fridays, and guided tours on Saturdays. A definite must-visit in South Jacksonville.
Customer Review: Had a great time getting a beer & chillin'. Board games galore for when you want to add some competition to the night. I love nostalgia so them having old war photos is such a cool idea when you want to appreciate the brave men & women who fought for this country.
Ruby Beach Brewing Co.
Ruby Beach Brewing Co. is all about crafting unique and inspired craft beers using locally sourced ingredients. Located in the Urban Core of Downtown Jacksonville and just minutes from the Jaguar's Football Stadium, the Ballpark, and the Arena, Ruby Beach Brewing makes the perfect stop for pre- or post-game brews. Be sure to try out their sours and lagers, two styles they've absolutely mastered.
Customer Review: One of my favorite breweries. Well crafted beers and a large variety to choose from. Whether you like lagers, IPAs, sours, stouts and more, you will definitely find something you will love here.
Fishweir Brewing
Fishweir Brewing brews up some tasty clean ales and lagers, barrel-aged sour beer, and wild small batch experimental brews at their Murray Hill Brewery. They've recently opened their gorgeous backyard beer garden and it's a hit among Jax locals! The perfect place to enjoy a cold beer or attend one of their many evens like movie nights and "Posture and Pints" Sunday morning yoga.
Customer Review: Another solid Jacksonville craft suds experience! Friendly professional service and really good craft beer in a lovely setting!
Strings Sports Brewery
From quality craft beer, a full kitchen, and games throughout, Strings Sports Brewery has it all. This is the place to be if you're a big sports fan, or just a fan of having a great time! All of their beers are named after iconic sports references and Jacksonville famous athletes. Conveniently located on main street Jacksonville, you won't want to miss this brewery and tap room.
Customer Review: The food is great, the beer is amazing! Strings is a family friendly while also being a great place to bring the guys or ladies for an evening out.
Pinglehead Brewing Company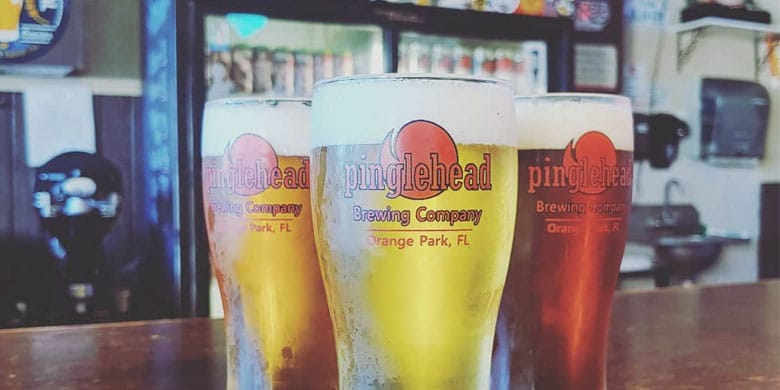 Pinglehead Brewing Company brews "Beer with Attitude!" Big and flavorful beers with the most incredible ingredients available make this local brewery a favourite. Do you know what pairs exceptionally well with craft beer? Pizza. Pinglehead's is actually located inside their very own pizza joint, Brewer's Pizza, in Orange Park. Hand tossed pizza and house brewed beers, a match made in heaven.
Customer Review: Fresh tapped beer, ice cold and tasty! And their pizzas are always good. I've yet to have a bad one.
Bottlenose Brewing
Bottlenose Brewing features an eclectic wall of 50 taps and cans + bottles of craft beer made in Florida. They've got an impressive line up of their own core beers and seasonal beers, along with many from other local breweries in Jacksonville and around Florida. They use local ingredients in their brews and their food is made from scratch, talk about supporting local!
Customer Review: Great beer, friendly staff, food was good. My favorite beer was the White Peach Pale Ale hands down.
Legacy Ale Works
Legacy Ale Works, located on the south side of Jacksonville on St. Augustine road was founded by a husband and wife duo who share a love for craft beer. After traveling around the country visiting breweries and sampling their brews, they decided to open up their very own brewery to show Jacksonville what they can do! Pop in to their lively taproom for weekly live music, awesome beer pairing dinners, pop-up markets and more, it's always a great time.
Customer Review: Great beer, great bartenders and a beautiful space! Live music in the outdoor seating area on the weekends; child and pet friendly! Plenty of food options nearby.
Intuition Ale Works
Intuition Ale Works is one of Florida's fastest growing breweries. They've recently moved into a new space with 30,000 square feet for brewing and good times! The new space also features an attractive rooftop patio with scenic views of the stadium and the river below. They've got a ton of flavorful and creative beers, focusing on barrel aging, Belgian brews and sour programs along with well loved standards.
Customer Review: Great beers, fantastic staff and a gorgeous roof top deck made this a fun stop on our Jville tour
King Maker Brewing
King Maker Brewing is a new addition to the craft beer scene of Jacksonville, located in the historic King Street District. They opened their doors in 2020 and are making quite the splash! They have an impressive list of always rotating taps, including unique small batch brews, meads and ciders. With different food trucks popping up every day of the week, you'll want to make a few trips to this brew pub.
Customer Review: Excellent beer in a cute taproom. There is a larger area with sofas and an industrial vibe off to the side where you can sit with your dog and enjoy one or more of those excellent brews.
Enjoy the best breweries in Jacksonville!
Make sure to go and check out Jacksonville's best craft breweries, grab a locally brewed pint (or 2) and support your local brewers!
If we've missed a brewery on our list that you think should be added, contact us and let us know who the brewery is and why you think it should be added to our list of the top breweries in Jacksonville!