What are the best Sacramento Breweries you absolutely must check out? Well, we've done the work to figure that out for you! We have sampled their brews, spent time in their taprooms, and read all the online reviews to come up with our take on the top Sacramento Breweries to explore this year! 
Sacramento Breweries
American craft beer has come a long way in the last few decades. In the early 1980s, there were only a handful of craft breweries in the whole country. Today, there are over 7,000 craft breweries operating in the United States, and Sacramento is home to quite a few of them!
The craft beer scene in Sacramento has exploded in recent years, with new breweries opening up all over the city. Today, craft beer is an important part of Sacramento's food and beverage culture, and there are few places in the city where you can't find a good craft beer to enjoy.
If you're interested in learning more about the history of craft beer in Sacramento, there are several excellent breweries that offer tours and tastings. These breweries are passionate about their craft, and they're more than happy to share their knowledge with visitors.
So whether you're a craft beer aficionado or just looking to learn something new, be sure to check out one of Sacramento's many craft breweries. You won't be disappointed!
Explore local craft breweries with our Brewery Near Me tool! Instantly discover the best and most highly-rated breweries wherever you are!
What are the top breweries in Sacramento?
If you're a craft beer lover, Sacramento is the place to be. This sunshine city is home to some of the best breweries in California, and there's something to suit every taste. Whether you're looking for a refreshing IPA or a rich stout, you'll be sure to find it here.
Sacramento is also home to several craft beer festivals like The Sacramento Brewfest, one of the biggest craft beer events in the city, with over 100 different beers to sample! There is always plenty of opportunities to taste different styles of beer, especially during Sacramento Beer Week.
But with so many great breweries in Sacramento, it can be tough to decide which ones to visit! Below, we've listed some of the best breweries in Sacramento, CA, that you simply cannot miss.
How we picked the best Sacramento Breweries?
With every 'top breweries' post that we write, we make sure to do diligent online research to determine who makes it on our list. From reading online reviews and reviewing beer selections, to checking other authority websites and of course, sampling their beers. We do our best to take all the information we collect and give you our opinion of the top breweries in Sacramento.
However, we know we aren't perfect and if we've missed a Sacramento brewery that you think should be on this list, contact us and let us know who the brewery is and we'll do our best to include them!
The Best Sacramento Breweries
Alright, let's get to it, shall we? Here's our list of the top Sacramento Craft Breweries!
Golden Road Brewing is a California-inspired brewery that is growing rapidly since opening in 2011, especially since being acquired by Anheuser Busch in 2015. Today, they're LA's largest brewery and with 5 taprooms across California, you can't miss them.
Their Sacramento location has beautiful indoor and outdoor seating with their signature funky and fun colors and a full menu to curb any cravings. They're extremely dog friendly and even have a special menu for your furry friends! Their beers are flavorful and fruity, showcasing true California flavors. Their flagship beer the Mango Cart Wheat Ale is a hit for most beer lovers, but once you try the Champango mimosa brew, you'll really be blown away.
Customer Review: If I could give this place 10 stars, I would. The food is amazingly good! The drinks are delicious and the service is spectacular!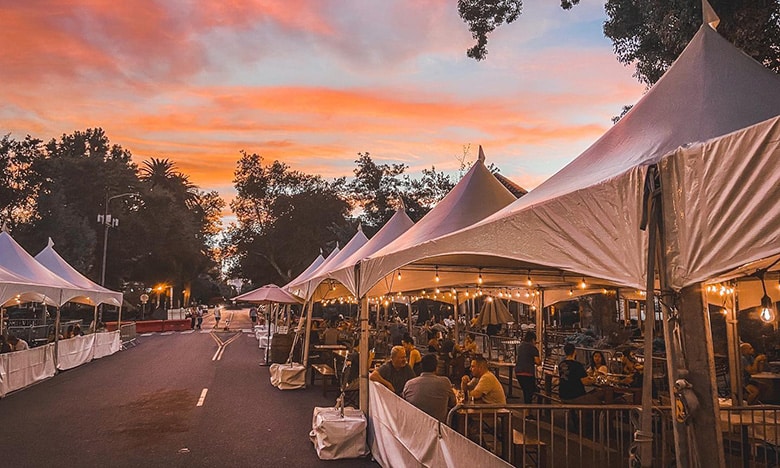 Fieldwork Brewing Company is located in the Handle District of Midtown Sacramento and is known for their ever-changing tap list that features fresh, seasonal brews. In addition to their rotating selection, they also offer a handful of flagship beers that are available year-round.
Fieldwork has a beer for you whether you're into sour beers or prefer something darker, they've got it all. And if you're feeling hungry, they also have a great food menu with something for everyone. You really can't go wrong with Fieldwork Brewing Company.
Customer Review: Cute little brewery with tasty beer and welcoming staff. Make sure you stop by if you're in town!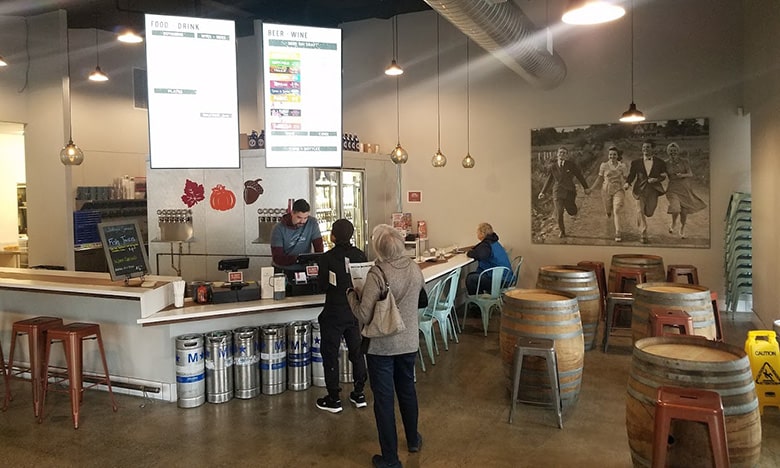 Track 7 Brewing Company brews unique and artisanal beers made with only the highest quality ingredients. Named after the old Western Pacific railroad tracks, west of Curtis Park, this brewery is an ode to the rich history of Sacramento, CA. They have three locations, the main production brewery at the Natomas location, and the Curtis Park and East Sacramento locations, all worthy of a visit.
Their kitchen partner, The Jazzy Bird, serves up delicious Peruvian-style rotisserie chicken that pairs exquisitely with their fresh craft beers.
Customer Review: Amazing selection of beers on tap and the new kitchen serves some killer fries and chicken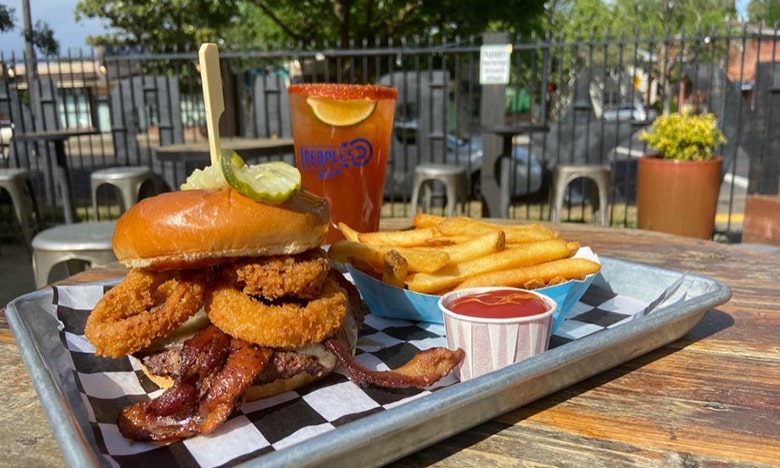 Oak Park Brewing Co. is a local favorite in the craft beer scene of Sacramento. The relaxed atmosphere is perfect for unwinding after a long day, and the full food menu means there's something for everyone.
Oak Park Brewing also features artwork from local artists and nonprofits with every beer release, so every can of beer is literally a work of art. And of course, the craft beer inside the beautiful can is also top-notch. Whether you're a Sacramentan looking for a new place to try or a visiting beer lover in search of the perfect pint, Oak Park Brewing Co. is worth a visit.
Customer Review: Great beer and food selection. I personally love the Po Boy and Chicken tenders. Excellent outside seating options, both covered and in the sun.
Located in the heart of Midtown Sacramento, Alaro Craft Brewery is an award-winning brewery that offers Spanish-inspired tapas and an impressive selection of craft beer and craft cocktails.
The brewery has a warm and inviting atmosphere, making it the perfect place to relax with friends after a long day. The staff is incredibly knowledgeable and passionate about their products, and they're always happy to help you find the perfect drink to suit your taste. Whether you're a beer lover or a cocktail enthusiast, Alaro Craft Brewery is sure to have something for you.
Customer Review: One of my favorite spots in Midtown. With a great beer selection and Spanish-inspired cuisine, Alaro fuses modern with traditional. Check out the back patio for a sun-filled, COVID-friendly dining experience!
Bike Dog Brewing in Sacramento, California is the perfect spot for dog lovers and craft beer enthusiasts. Founded by four friends who share a deep love for bikes, dogs, and of course, beer, this small-batch brewery is not one to miss.
Being a small-batch brewery means they get to experiment with new flavors all the time. Along with their wide variety of delicious craft beers, they also serve mouthwatering wood-fired pizzas that are sure to please any appetite. Best of all, Bike Dog is a dog-friendly brewery, so you can bring your furry friend along to enjoy the day.
Customer Review: Great people great beer and the atmosphere is so fun and uplifting. Love the fact that dogs are welcome.
Big Sexy Brewing Company is a craft beer paradise located in the heart of Sacramento, California. Known for their high-quality ingredients and unique industrial feel, this brewery is quickly becoming a favorite for locals and visitors alike. The brewery is housed in a converted warehouse, and the walls are covered with graffiti art, giving it a quirky and funky feel.
The taproom is spacious and comfortable, and the beer list is impressive. From IPAs, lagers, and sours, to specialty beers, their award-winning beers are top-notch. They've even managed to rank #7 in the nation at the 2020 U.S. Open Beer Championship!
Customer Review: Always great beer, relaxing atmosphere and the bartenders are knowledgeable and friendly
Urban Roots Brewery & Smokehouse is one of the top breweries in Sacramento, California. Not only do they have an impressive beer list, but they also serve smoked meats that are sure to please any appetite.
Their most popular Urban Roots brews include their barrel-aged stouts which have won many awards, but they also have a variety of other easy-drinking beers that are sure to satisfy any palate. Whether you're looking for a light beer to enjoy on a hot day or a dark beer to warm you up on a cold night, Urban Roots Brewery & Smokehouse has something for you.
Customer Review: Loved the atmosphere. Nice spot to grab beer with decent selection of food. Plenty of seating options available indoors as well as outdoors with heaters. Fun place!
Formerly Tower Brewing, now High Water Brewing Co. is a great place to enjoy live music, trivia night, and good food. The wide selection of expertly crafted beers means there's something for everyone to enjoy. The live music and trivia nights are always a hit and the atmosphere is casual and friendly, making it a great place to relax with friends.
Customer Review: Had a fun time last night. Heard some good blues by Stephen Kimball blues band and some very tasty brews! My fav was Monkey Knife Fight.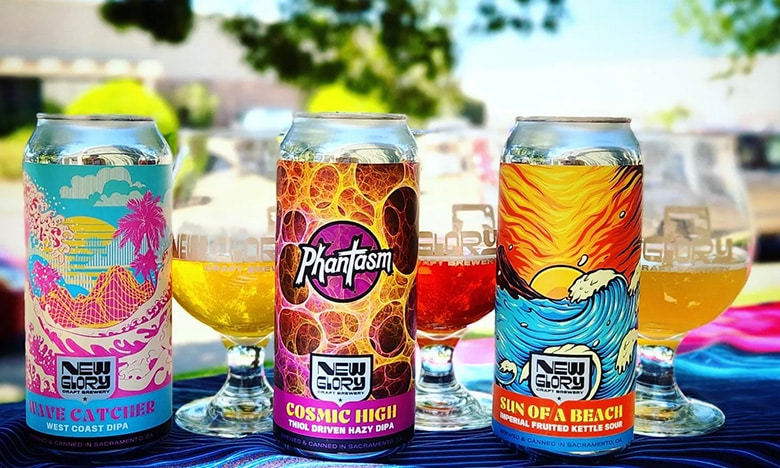 New Glory Craft Brewery is a great place to try some flavorful brews in Sacramento. This brewery is popular with locals and visitors alike, thanks to its food trucks, laid-back atmosphere, and excellent selection of seasonal beers.
They have their much-loved year-round brews like the inventive Gummy Worms Chewy Pale Ale along with their "Something Random Series" which features wildly delicious brews with out-of-this-world flavors and high-quality ingredients. Whether you're looking for a light and refreshing summer ale or a flavor punch to the face, New Glory has something for everyone.
Customer Review: Amazing beer, and consistently good. Probably my favorite in all of Sacramento. Had to order a flight because I couldn't choose just one, and loved everything I tried! Their hazy IPA's are especially top-notch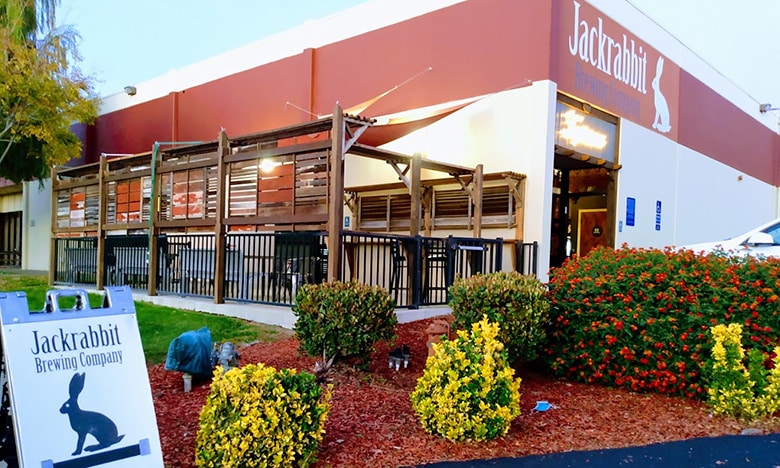 Jackrabbit Brewing Co. in West Sacramento is a family-friendly brewery with two spacious patios perfect for enjoying a cold beer on a sunny day. The beer here is absolutely amazing – they have some of the best sours in town, and their IPAs are perfectly balanced. Plus, a bonus for the gluten-free community, most of their beers are gluten-reduced!
When it comes to events, Jackrabbit Brewing Company knows how to have a good time. They have a cornhole set up indoors, rotating food trucks outdoors, and tons of events filling their schedule. From trivia nights to live music, along with many other workshops and events, just check their event page on their website to see what's happening tonight!
Customer Review: My favorite brewery. Lovely staff, good beer, and very chill. They've done great with the pandemic, too, so it's nice and safe to sit on their patios, and seating is well spaced inside
Ruhstaller BSMT is in the heart of Downtown Sacramento and has quite a history, dating back to 1865 when Frank Ruhstaller arrived in Sacramento from Einsiedeln, Switzerland. Inspired by the past, their taproom has a speakeasy vibe with dim lighting in a rustic wood basement. Adding to the ambiance, they also have pool tables and live music, making it a great place to spend the evening with friends.
The Ruhstaller Farm is located in Dixon, where they grow their own hops and almost everything that goes into their delicious brews.
Customer Review: We had an absolute blast at Ruhstaller Beer! The venue is really unique with outdoor seething upstairs and a very cool space inside. There's lots of great beer to choose from and a pool table. Swing by soon!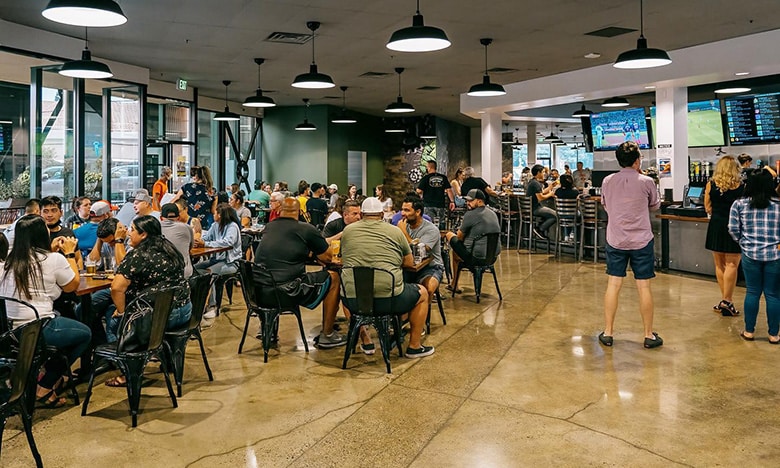 Device Brewing Company brews premium, award-winning beers in Sacramento, Ca. They have three locations in Sacramento, and all are worthy of a visit. If you're looking for a local brewery that's family-friendly and has some of the best craft beers in the Sacramento area, look no further. With weekly trivia and good times every day of the week, Device Brewing Company is sure to be one of your new favorite local breweries.
Customer Review: Friendly staff, good beer. If you're an IPA person they've got a lot of those. If you're not an IPA person(like me), your selections are more limited, but still good (get the Nitro Salted Caramel Porter)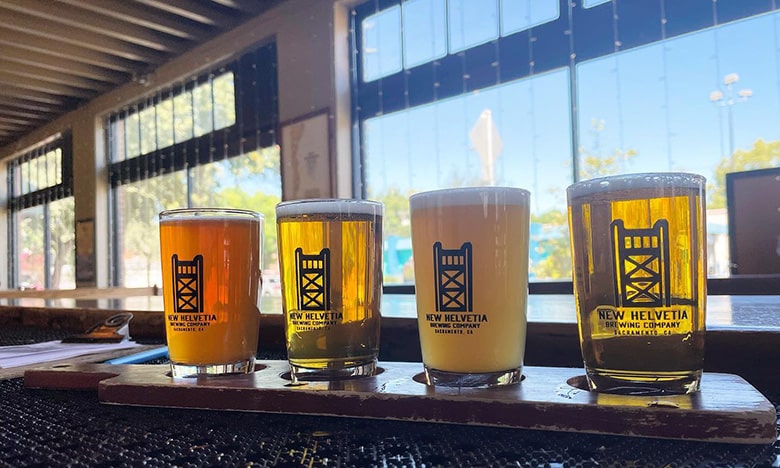 New Helvetia Brewing Company is named after the original name of the settlement founded by John Sutter in 1839, which is now known as Sacramento. They take pride in supporting local and have a wonderful bar and taproom so you can do the same. All of their brews are brewed on-site, and you'll often find a food truck or two that pairs nicely with their offerings.
Customer Review: Great Craft Brews! Atmosphere is great! Would highly recommend checking it out!
Fort Rock Brewing is located on the outskirts of Sacramento, in Rancho Cordova. It's a dog-friendly, family-friendly brewery with super-friendly staff ready to make excellent recommendations in its spacious tasting room. Fort Rock Brewing began back in 2013 in a garage in Folsom, CA, and for the last decade, they've been brewing popular brews for their friends and the community.
Their taproom is a great place to kick back and watch the game on one of their many TVs or rock out to some live music with your friends. Though they don't have their own restaurant, the Old Spaghetti Factory delivers appetizers right to their taproom, and on weekends you'll often find a food truck or two.
Customer Review: Cool spot, always chill vibes. Good beer selection, friendly staff and very open space
King Cong Brewing Company serves up both traditional and experimental beer styles alongside a delicious food menu in Uptown Sacramento. They're dedicated to making great beer for all beer lovers, creating the perfect experience for anyone who walks through their doors. Along with their 13 beers on tap, they also have beer alternatives available from hard seltzers and hard kombucha, to delicious and crisp ciders. Best of all, the entire brewery is King Kong themed!
Customer Review: These are really good people, making outstanding beers! Super chill place to hang out and vibe!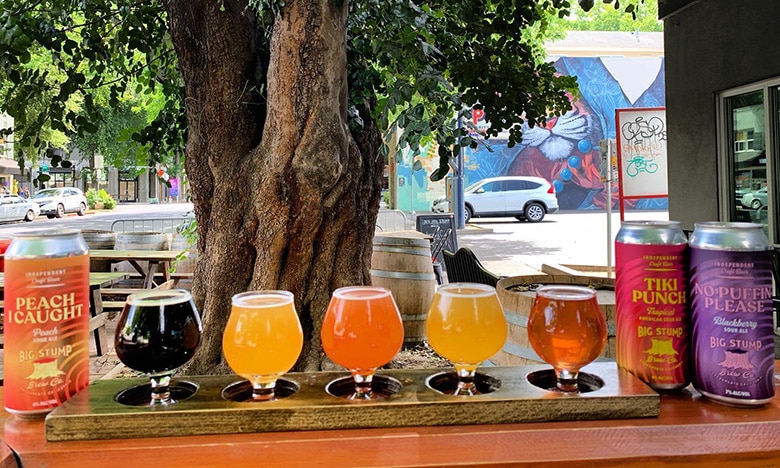 Big Stump Brewing Company is a small-batch brewery in Midtown Sacramento, that loves to brew sour beers. They're masters of the fruit-forward brews, and if sours are your jam, then this is the place to be. In terms of food, their restaurant serves up delicious and creative pizzas that pair perfectly with their handcrafted brews.
Customer Review: Great place. The stout was chocolaty. And the ipa was not too dry. Pizza was very good and the staff is very friendly. I definitely want to go back
Burning Barrel Brewing, founded by a father/son duo, is an amazing brewery in Sacramento. They've got imperial stouts aged in bourbon barrels, smoothie jammer sours, and a variety of classic IPAs. They have nearly two dozen extraordinary brews on tap, ensuring that there's something for every palate that walks through the door. For food, they've got rotating food trucks to keep your tummies happy!
Customer Review: Nice atmosphere, good service, big indoor and outdoor space with mist. Food by the patio looked good. Most importantly, multiple amazing beers.
Porchlight Brewing Company is a craft beer lover's paradise. Located in Sacramento, California, Porchlight offers a variety of beers that are sure to please even the most discerning palate. In addition to their regular selection, Porchlight also offers seasonal and limited edition brews, so there's always something new to try. And for those who like to test their knowledge, Porchlight hosts a weekly trivia night with prizes for the winning team.
Of course, no brewery would be complete without food trucks, and Porchlight has some of the best in town. Whether you're looking for a place to enjoy a cold beer with friends or you're looking to expand your craft beer horizons, Porchlight is the perfect spot.
Customer Review: Love this place! Looking forward to visiting again after COVID. Great selection of beer and delivery connections with several eateries makes Porchlight a great spot to sip and eat after a hard day's work.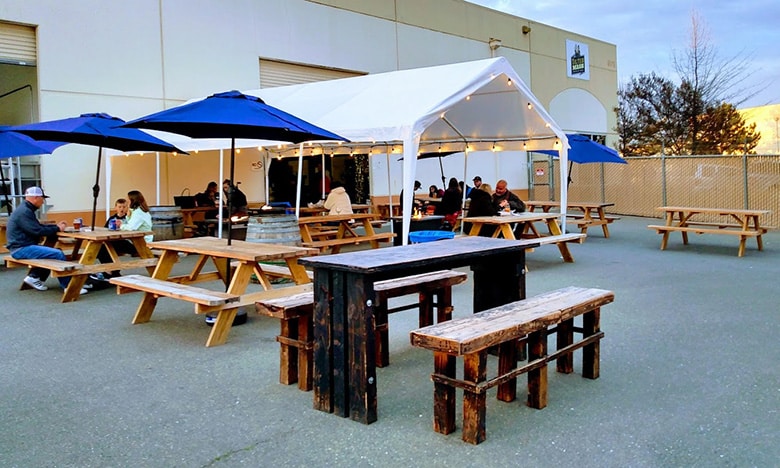 Tilted Mash has established itself as a go-to spot for quality craft beer. They offer a rotating selection of seasonal and limited-release beers, from light, sour, hoppy, or malty, they do it all. They also have great events like their comedy night once every month, which is always popular with locals.
One of the best things about Tilted Mash is its spacious beer garden, which is perfect for enjoying a pint on a sunny day. With its commitment to quality and its focus on community, Tilted Mash is quickly becoming a Sacramento institution.
Customer Review: Fantastic beers! GOOD balance in their IPAs. I have not had a bad drink here. The staff is incredibly helpful, too. They will find whatever is right for you.
Enjoy the best breweries in Sacramento!
Make sure to go and check out Sacramento's best craft breweries, grab a locally brewed pint (or 2) and support your local brewers!
If we've missed a brewery on our list that you think should be added, contact us and let us know who the brewery is and why you think it should be added to our list of the top breweries in Sacramento!