Looking for the best Richmond Breweries? You're in luck! We've scoured the city to bring you our top picks of the top breweries in Richmond that you absolutely must check out. Our team has spent time sampling their brews, exploring their taprooms, and reading all the reviews to give you our take on the best craft breweries in Richmond to visit this year.
Richmond Craft Beer Scene
Richmond, or RVA as locals call it, is a craft beer enthusiast's paradise. With over 30 breweries and counting, Richmond is brewing up a storm and quickly gaining a reputation as one of the top beer destinations in the country. From crisp, refreshing IPAs to complex, hearty stouts, Richmond breweries offer an adventure for every palate.
What's more, the breweries here are about more than just great beer. They're community spaces where folks gather to relax, enjoy good company, and soak up some of the best local beer scene you could ask for.
So, if you're a fan of delicious brews, mouthwatering food, and lively atmospheres, you're in for a treat!
Who Makes The Best Beer in Richmond?
Now, onto the question that's on everyone's mind: who makes the best beer in Richmond?
Well, friends, that's a tough one. With so many creative and passionate brewers in town, it's not easy to pick just one. So, we say, why choose?
Sure, Stone Brewing, one of the largest breweries in the world, has set up shop in our city, offering a wide variety of robust and flavorful beers. And let's not forget Hardywood Park, the largest Virginia-owned brewery, known for its locally sourced ingredients and flavorful lagers.
But there's also Ardent Craft Ales with their German-inspired pilsner, the enchanting Garden Grove with their delicate barrel-aged brews, and Basic City Beer with their range of adventurous stouts and IPAs!
Truth be told, the best beer in Richmond might just be the one you're holding in your hand at any given moment. So, why not explore them all and decide for yourself? After all, in the Richmond beer scene, the journey is just as important as the destination!
How We Picked The Top Breweries in Richmond, VA
With every 'top breweries' post we write, we do diligent online research to determine who makes it on our list. From reading online reviews, reviewing beer selections at favorite breweries, checking other authority websites, and sampling their beers. We do our best to take all the information we collect and give you our opinion of the top breweries in Richmond.
Did we miss something?
If you think a brewery deserves a spot on our list, Vote for them! If you're a brewery looking to update your information or get in touch, contact us!
The Best Richmond Breweries
Alright, let's get to it, shall we? Here's our list of the top Richmond Craft Breweries!
Stone Brewing
Stone Brewing started its journey in sunny San Diego, California, and quickly became one of the world's top ten largest beer producers. Lucky for us, they opened their biggest East Coast facility right here in Richmond in early 2016.
When you step into Stone Brewing's taproom, you'll be greeted by a rustic industrial vibe that's both charming and modern. They also have a California-inspired food truck on-site that will satisfy your hunger while perfectly complementing your beer.
But let's not forget about the main event – the beer! Stone Brewing offers a wide variety of flavorful beers that will delight your taste buds. From hoppy IPAs to rich stouts, they have it all. And if you're looking for something different, they also have canned margaritas and bottled seltzers!
Customer Review: Cool space, great beer and good food from the on site truck
Hardywood Park Craft Brewery
Hardywood Park Craft Brewery is the largest Virginia-owned brewery and they're brewing up some serious magic. Their best-seller, the Richmond Lager, is a must-try. With Cascade hops giving it a citrusy touch and floor-malted barley adding a light sweetness, it's the perfect thirst quencher.
Located downtown, their brewery not only serves up amazing beer but also boasts an incredible pizza kitchen. Treat yourself to mouthwatering slices while enjoying their flavorful brews. Plus, they frequently host live music, creating an energetic and vibrant atmosphere.
Hardywood Park Craft Brewery also embraces their Virginia roots through their Virginia Roots Series and small-batch beers. From locally sourced hops, malted barley, and fruits like blackberries, raspberries, and blueberries, to pumpkins, peaches, honey, and ginger – they're all about celebrating local flavors.
For those who appreciate aged brews, Hardywood Park Craft Brewery offers a stellar lineup of barrel-aged stouts and barleywine, meticulously crafted for a rich and complex taste.
Customer Review: Great outdoor seating section, especially on a day with good weather. Plenty of great beers on tap. We went on a Tuesday night and the chill was vibe, lots of families and people with their dogs. Dog friendly.
Starr Hill Beer Hall & Rooftop
Starr Hill Beer Hall is the second oldest craft brewery in Virginia with a history that spans decades. When it comes to summertime refreshments, Starr Hill Beer Hall has got you covered with their Juice Box Sour Pack. Packed with fantastic summer sippers like the Orange Creamsicle Sour and Tiger's Blood Watermelon Strawberry Coconut Sour, these beers will transport you to a tropical paradise of flavor.
But it's not just about the beer at Starr Hill Beer Hall. They also offer a rotating selection of food trucks and pop-ups, ensuring that you'll always find something delicious to pair with your brews. From mouthwatering snacks to satisfying meals, the culinary offerings will satisfy your cravings.
Customer Review: This has quickly become our most frequented brewery in RVA. It helps that we're in the mug club and we get great deals! Delish beer and a cool space
The Veil Brewing Company
The Veil Brewing Company is renowned as one of the most imaginative and daring breweries in Richmond. When it comes to pushing the boundaries of flavor, The Veil Brewing Company takes the cake. They are known for their wild creations like Oreo stouts and even a pale ale made with fried chicken. Yes, you read that right!
Their reputation speaks for itself – The Veil Brewing Company was named one of the most-hyped breweries in 2019, and they earned the prestigious title of the #3 Best New Brewer in the world, according to Rate Beer.
In April 2023, The Veil Brewing Company opened a new flagship location in Scott's Addition, Richmond. This spacious and exciting venue is the perfect place to immerse yourself in their world of inventive brews. Whether you're a seasoned craft beer enthusiast or just dipping your toes into the world of brewing, The Veil Brewing Company will leave you in awe.
Customer Review: Best beer I've had in town!! As a Hazy IPA person they had everything my little heart could desire. Love the vibes and atmosphere! I can't wait to come back. 💛
Ardent Craft Ales
Ardent Craft Ales is a beloved craft brewery with a wide range of delicious brews, including their signature Ardent Pilsner. Brewed with ingredients sourced from Germany, this refreshing beer delights with its aroma of warm bread, creamy head of foam, and a clean and dry finish.
But Ardent Craft Ales offers more than just great beer – they've got you covered when it comes to food as well. Adjacent to the famous Texan BBQ joint ZZQ, you can indulge in mouthwatering smoked meat while sipping on your favorite brew. If you're in the mood for something lighter, their menu features toasts, salads, and sandwiches.
And to add to the fun, Ardent Craft Ales hosts weekly trivia and karaoke nights, providing a lively and entertaining atmosphere.
Customer Review: Great relaxing vibes and stumbling distance from ZZQ. Highly recommend. Try the English Pub Ale you won't regret it!
Garden Grove Brewing and Urban Winery
Welcome to the enchanting world of Garden Grove Brewing and Urban Winery, where craft beer and wine harmoniously coexist. This small-batch brewery and winery offers a diverse selection of about a dozen craft beers on tap, alongside their own line of exquisite red and white wines.
What sets them apart is their dedication to freshness, as their beers are exclusively served fresh at the source, avoiding bottling and distribution. A true testament to their commitment to quality, Garden Grove's barrel fermentation and aging program utilizes French and American oak wine barrels, allowing their beers to mature anywhere from 1 month to over a year.
Customer Review: Friendly bartenders and delicious brews! Kitsu is my favorite
Triple Crossing Beer
Get ready to embark on a flavor-packed adventure at Triple Crossing Beer. This craft brewery is renowned for its bold beer and bold names, offering a unique and thrilling experience for beer enthusiasts. Each location has its own delectable food specialties – at the Fulton location, indulge in brick oven thin crust pizzas, while the downtown Richmond location specializes in gourmet grilled cheese sandwiches.
Triple Crossing has a fantastic lineup of classic brews, but they also take pride in crafting unique creations like Cinder, a German-style smoked rauchbier that will tantalize your taste buds.
Customer Review: Great service every time we go! Good beer and delicious food and pizza. They've got a lot more outdoor seating than many other local places, including a nice covered patio. The event space that you can rent out is really spacious too. Perfect for large events!
Väsen Brewing Company
Väsen Brewing Company knows how to bring together the best of American craft beer with the rustic and funky flavors of Belgian farmhouse ales. They focus on making the best locally-made beer and the result is some of the best wild beers you'll ever try.
They're on a mission to be one of the most sustainable breweries in the entire nation. They take sustainability seriously and are committed to 100% reuse and recycling of the resources they use to make their exceptional wild ales. So, when you enjoy their quality beer, you can do so with an extra dose of pride, knowing that you're supporting a brewery that cares about the environment.
Customer Review: Love this brewery. Atmosphere is great and they had a nice selection of beers. Great place to hangout.
Basic City Beer
Basic City Beer has a great indoor/outdoor space where you can soak up the sun while enjoying your favorite brews. When it comes to the beer selection, Basic City Beer has something for everyone. They brew a diverse range of beer styles, from refreshing IPAs to crisp lagers, and even adventurous sours and imperial stouts. With such variety, you're sure to find a beer that suits your taste buds.
Now, here's a little tip from us: be sure to try their Grin's Casket Stout. This remarkable brew boasts delightful notes of vanilla and coffee, making it a favorite among beer enthusiasts. It's the perfect blend of richness and flavor that will have you coming back for more.
Customer Review: Good brewery, huge indoor space. Dog friendly inside! Some outdoor seating. Also has a large venue/event space. Pretty good beer, and nice service!
Isley Brewing Company
Get ready to indulge in the passion and artistry of Isley Brewing Company, a microbrewery that takes brewing to the next level. With their "artisan" approach, they're all about crafting exceptional brews that will captivate your taste buds.
When it comes to porters, Isley Brewing Company knows their stuff. Their mouthwatering selection of porters, especially the Choosy Mother Peanut Butter Porter, is a true delight. Savor the rich and creamy flavors that will transport you to peanut butter paradise.
From their delectable porters to their diverse selection of uniquely flavored beers, this brewery will take your taste buds on a thrilling journey.
Customer Review: This is the best brewery in Richmond. I really enjoy the Choosey Mother and all the seltzers. I'm in here almost weekly and they're always consistent. Manager and staff are awesome as well!
Bingo Beer Co.
Welcome to the ultimate destination for beer, food, and fun – Bingo Beer Co.! This unique brewery brings together the excitement of a beer hall, the deliciousness of a restaurant, and the entertainment of an arcade.
Inspired by German brewing traditions, Bingo Beer Co. offers a wide range of brews, from classic German lager styles to IPAs, farmhouse beers, fruited sours, and barrel-aged creations.
But it's not just about the beer – their taproom is all about games and sociability, making it the perfect place to gather with friends and family. With a family-friendly atmosphere, Bingo Beer Co. guarantees a memorable experience for all.
Customer Review: Always a stop we visit when coming back from southern VA. The beer is fantastic, and the kids love playing in a true arcade. A mix of nostalgia and delicious food – we always enjoy our visits.
The Answer Brewpub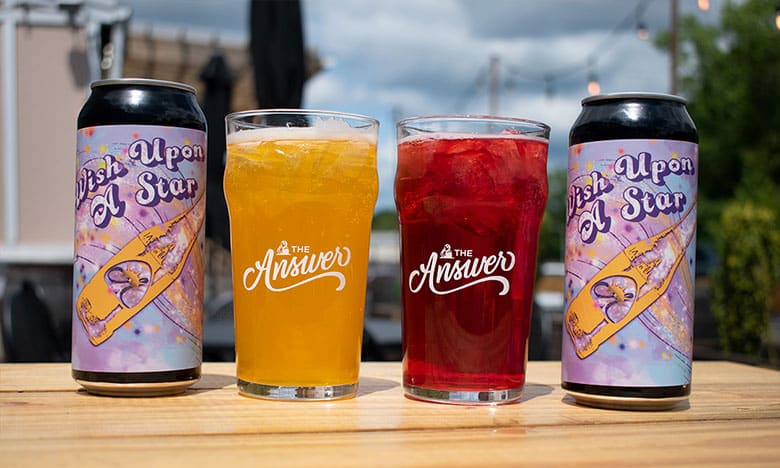 The Answer Brewpub is a haven for fantastic food and exceptional brews. They have great offerings, including the mouthwatering Wake N' Bacon – bacon-fried rice topped with a sunny-side-up egg – and a variety of delicious Bánh Mì sandwiches. Craving some appetizers? Indulge in their pan-fried pork dumplings and crispy spring rolls.
But don't worry, they make more than just great food! The Answer Brewpub has one of the best bar menus in Richmond with an impressive selection of 56 beers on tap, along with meads, ciders, and wine! With live music adding to the vibrant atmosphere, The Answer is the ultimate destination for a memorable culinary and brew experience.
Customer Review: Fantastic venue. Off-street parking, ample craft beer selection, and wonderful Vietnamese food. This is a must-visit in the Richmond craft beer scene.
Richbrau Brewing
Richbrau Brewing is steeped in history, crafting a wide range of flavorful brews in the heart of Richmond's Shockoe Bottom neighborhood. From Hazy IPAs to smooth Stouts and Sour Ales, they offer a diverse selection to satisfy all beer enthusiasts.
But what sets Richbrau Brewing apart is their dedication to incorporating Richmond's vibrant history into their beers. Each brew is infused with the city's eclectic past, from fortune-telling horses to unsolved robberies, creating a unique and intriguing blend of flavors and stories.
Customer Review: Love watching Bills games here! Also love the lactose sours. If you avoid IPA like me and just want a crisp basic beer, the Richbrau Lager is the best around and pairs well with football. 😉
Tabol Brewing
Tabol Brewing is a relatively new small-batch brewery located in Richmond's Battery Park. If you're a fan of crisp and refreshing brews, their lagers and pillowy pilsners are sure to delight. And to make your experience even more enjoyable, they frequently host live music, adding a lively and vibrant atmosphere to their tasting room.
Customer Review: Great beer with kombucha available in cans, good prices, excellent food from their in house truck now. Definitely a spot you can hang out at on a weekend all day. Plenty of designated parking and dog and kid friendly too.
Final Gravity Brewing Co.
Final Gravity Brewing Co. is nestled in Richmond's Lakeside neighborhood on the Northside. They have knowledgeable staff and a casual vibe with arcade games and dartboards. Feel free to bring your own food or grab a bite from the outside, as outside food is more than welcome.
With their roots in home brewing, Final Gravity Brewing Co. started as a home brewing supply shop called Original Gravity and expanded to become a full-fledged brewery. So grab a pint, relax, and enjoy the warm community atmosphere at Final Gravity Brewing Co.
Customer Review: Superb beer selection, great atmosphere, and a neat selection of arcade-style games. Next door to their own/partner homebrew shop is cool, too. No on-site food, but good restaurants nearby.
Enjoy the Best Breweries in Richmond!
Make sure to go and check out Richmond's best craft breweries, grab a locally brewed pint (or 2), and support your local brewers!
If we've missed a craft brewery on our list that you think should be added, head over to our Voting Page and vote for them! Let us know who they are and why you think they should be added to our list of the top breweries in Richmond!