What are the best Reno Breweries you absolutely must check out? Well, we've done the work to figure that out for you! We have sampled their brews, spent time in their taprooms and read all the online reviews to come up with our take on the top Reno Breweries to explore this year! 
Reno Breweries
Reno, Nevada, also known as "The Biggest Little City in the World" is quickly becoming known for its growing craft beer scene. The city is home to several local breweries, and beer lovers from all over the world are beginning to take notice. If you're looking for a great place to enjoy a cold one, Reno should definitely be at the top of your list.
Reno's craft breweries are putting their own spin on traditional beer styles. Whether you're a fan of IPAs, stouts, or sours, you'll find something to enjoy from Reno's local brewers. And if you're looking to explore beyond the typical brewery tour, many of Reno's breweries offer unique experiences that are perfect for groups. From beer yoga to brewing classes, there's something for everyone at Reno's craft breweries.
Explore local craft breweries with our Brewery Near Me tool! Instantly discover the best and most highly rated breweries wherever you are!
What are the top breweries in Reno?
The Reno Brewery District is located in downtown Reno and is where you'll find some of the best breweries in Reno, each with their own unique style and personality. The district is also home to a number of bars and restaurants, making it the perfect place to enjoy a night out on the town.
Reno's breweries offer a wide range of beers, from traditional styles to experimental brews. Whether you're looking for a light and refreshing lager or a rich and malty stout, you're sure to find something to suit your taste.
So whether you're a craft beer enthusiast or just looking to try something new, be sure to check out Reno's growing craft beer scene. You won't be disappointed.
How we picked the best Reno Breweries?
With every 'top breweries' post that we write, we make sure to do diligent online research to determine who makes it on our list. From reading online reviews and reviewing beer selections, to checking other authority websites and of course, sampling their beers. We do our best to take all the information we collect and give you our opinion of the top breweries in Reno.
However, we know we aren't perfect and if we've missed a Reno brewery that you think should be on this list, contact us and let us know who the brewery is and we'll do our best to include them!
The Best Reno Breweries
Alright, let's get to it, shall we? Here's our list of the top Reno Craft Breweries!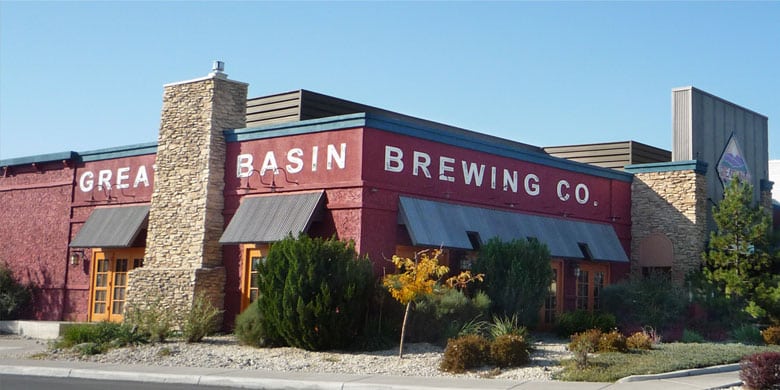 Great Basin Brewing Company is the brewery that started it all in Reno, NV. They opened their doors in 1993, making it Nevada's oldest brewery known for its high-quality craft beer. The beer selection includes a wide variety of styles, from light and refreshing lagers to rich and dark stouts paired with excellent pizza, sandwiches, and appetizers. Whether you're a long-time fan or you're just getting into craft beer, Great Basin is definitely worth a visit.
Customer Review: Delicious beer and food! The brisket was awesome, and the stout with a shot of peanut butter whiskey was worth having!
Located just outside of Reno, Revision Brewing Company in Sparks is where you'll want to be if you're an IPA fan. Known for their world-class IPA's, 2x IPAs and 3x IPAs, Revision boasts a huge amount of awards and medals to back them up. Their rotating lists of hazy IPA's, west coast lagers, barrel-aged and pastry stouts and of course their wildly popular experimental brews will never leave you thirsty.
Customer Review: They make great beer, if you like IPAs. And I do 🙂 Seriously the best spot to stop in Reno, and possibly the best brewery in Nevada, though I've only been to like 10 🙂 The facility is great, super open with plenty of seating. The swag selection is solid as well.
The Brewer's Cabinet is the perfect place to enjoy a cold beer in the Truckee Meadows. Nestled along the Truckee River in midtown Reno, The Brewer's Cabinet offers a wide selection of easy-drinking brews, as well as a rotating selection of seasonal and specialty beers.
The Brewer's Cabinet is a great place to catch up with friends, as the taproom features large communal tables perfect for the whole gang! Whether you're looking to try a new beer or just want to relax with friends, The Brewer's Cabinet is the perfect place to visit.
Customer Review: In house beer selection is always solid with interesting guest offerings on tap. Top notch pub fair as well.
The Depot Craft Brewery and Distillery is located in a historic railroad building built in 1910. The brewery offers a variety of traditional and innovative creations, including a line of small-batch spirits. The Depot is the perfect place to enjoy a meal with friends, sample some of the best beer and spirits in the area, and learn about the historic brewing tradition of the Reno area.
Customer Review: Honestly the food and drinks are amazing! The meals are crafted with flavor and fresh tasting ingredients! Super refreshing! The drinks and beer are delicious and the service is fantastic! I highly recommend this place.
Situated in the heart of Midtown Reno and built over an underground artesian lake, Brasserie Saint James is a gold medal-winning brewery specializing in old-world-style beers. The rustic setting, complete with stone fireplaces, provides the perfect backdrop for enjoying a pint or two. Whether you're looking to try something new or just want to relax with a classic favorite, Brasserie Saint James has something for everyone.
Customer Review: Big fan of stouts and porters. The toasted marshmallow latte nitro stout was one of the best beers I've ever had. Food was very creative and delicious. Loved the ambience.
Silver Peak Brewery is the perfect place to enjoy a craft beer in downtown Reno. The brewery offers a variety of beers, all of which are brewed on-site. The taproom has a relaxed and comfortable atmosphere, and the staff is always happy to chat with guests about the beers.
In addition to its great selection of beers, Silver Peak also offers an amazing restaurant with a delicious food menu. The brewery is located in the heart of downtown Reno, making it the perfect place to enjoy a meal or drink after a day of exploring the city.
Customer Review: Definitely one of my favorite places downtown to get a drink and some decent food. They have a great selection of beer on tap and a menu that has something everyone can enjoy.
Looking for a place to enjoy some adventurous craft beers? Look no further than Lead Dog Brewing Company! Their creative ales range from easy-drinking lagers to flavour-punching stouts and they often have food trucks outside to keep your bellies happy. It's never a dull moment at Lead Dog, with daily happy hour and weekly events like live music and corn hole tournaments.
Customer Review: One of my favorite bars in town. Plenty of space, good beers, fun events and tasty food trucks.
10 Torr is another brewery meets distillery, famous for their vacuum distilled spirits, precision crafted beers and all-natural canned cocktails. True quality you can taste. Their tasting room and bar have indoor and outdoor seating where you'll find games, daily food trucks, and weekly events.
Customer Review: Great hang out spot. Lots of drink options other than beer…although I highly suggest the beer. Friendly staff.
IMBĪB (pronounced imbibe) means to drink; to receive into the mind and retain… and that's exactly what you'll be doing at this locally owned brewery. IMBĪB is one of the smallest brewpubs in Nevada known for their award-winning old-world barrel-aged beers along with their wide variety of malty, hoppy, and easy-drinking brews. They love to embrace tradition and push the boundaries of beer and are confident that they have a beer to please every palate.
Customer Review: Great beers of all varieties, and the staff really knew what they were talking about and how to recommend what everyone in my party might like. Absolutely will come back any time I'm in town.
Pigeon Head Brewery is quickly becoming one of the Reno Brewery District's most beloved local spots. The brewery specializes in German-style lagers, and their clean, crisp flavors have made them a favorite among Reno beer lovers. Whether you're making your own brewery crawl or looking for a new watering hole, Pigeon Head Brewery is definitely worth a visit.
Customer Review: What a great and unique brewery! They have several lagers available which is pretty hard to find these days. Really cool art on the walls and a nice intimate setting. Love the beer
Enjoy the best breweries in Reno!
Make sure to go and check out Reno's best craft breweries, grab a locally brewed pint (or 2) and support your local brewers!
If we've missed a brewery on our list that you think should be added, contact us and let us know who the brewery is and why you think it should be added to our list of the top breweries in Reno!